We are excited to welcome you to Olight's 16th-anniversary sale. Join us as we celebrate our 16th anniversary and make the most of our exclusive deals and exciting new arrivals. From bright and compact flashlights to reliable headlamps and tools, the new offerings are sure to meet the demands of any adventure.
We are celebrating its 16th anniversary with new arrivals that are sure to impress outdoor enthusiasts and collectors alike.
1. i16 Friendship 2. i16 (Olight Blue) 3. i3E EOS (OD Green)4. Javelot Pro 2(OD GREEN)
5. Marauder Mini (OD Green) 6. Obulb Plus 7. Obulb Pro S 8.i5T EOS(Cracked Brass)
9.i5T EOS(Autism Awareness Edition) 10.i5R EOS(Regal blue) 11.i3T(Donut)
12.Warrior 3s(Scarlet Gradient) 13.Perun 2 Mini (Blue) 14. Baton 3 PRO(Cu)
15. Baton 3 Pro (White) 16. Rubato (OD Green) 17. Otacle(Carbon Fiber)
18. Otacle Pro Ti 19. Otacle J1M 20. PL-3R Valkyrie 21. RN 1500 (Gray)
i16 Friendship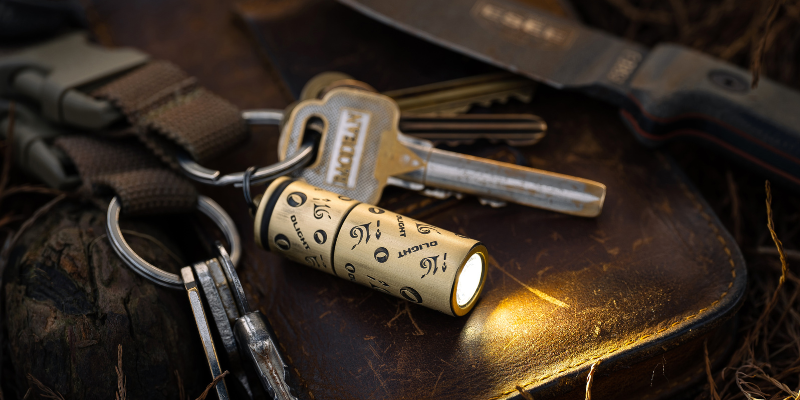 The Olight 16th Anniversary is a special occasion, and the i16 Brass keychain torch is definitely a fitting tribute to their success. It is not only an exclusive product but also a collector's item that showcases Olight's dedication to quality and customer satisfaction. Olight's growth has fully depended on your support during the past 16 years. We will never stop appreciating our fans to the fullest. And we are excited for the next milestone with you by our side.
"i16" reflects our past 16 years of growth. The signature Olight logo is a combination of the sun and moon, indicating that Olightwill continues to spread love, light, and warmth, night and day. One of the most distinctive features of this torch is its premium brass body, which is not only aesthetically pleasing but also provides durability and sturdiness. The brass body reacts to the environment, absorbing moisture and oils from the skin, causing a natural patina to form over time, giving it a vintage look that is unique to each individual user.
i16 (Olight Blue)
Olight and Ofans have created many special memories in the past 16 years and we would like to extend our deepest gratitude to everyone who chose to come along with us on this journey. Here comes an exclusive gift: the i16 Olight Blue which features a special design to show our appreciation for your continuous support.
A classic Olight Blue that evokes hope, rigor, and reliability, embodying Olight's original spirit and limitless possibilities The blue color is bold and eye-catching, making it easy to spot in a bag or on a keychain. The finish has a slight sheen to it which adds to its appeal.
i3E EOS (OD Green)
One of the main features that make the i3E EOS so appealing is its compact size. Measuring just 2.4 inches in length and weighing only 0.5 ounces, this model can be comfortably carried around in your pocket, attached to your keychain, or clipped onto your backpack. Despite its small size, the i3E EOS packs a punch, delivering an impressive output of up to 90 lumens.
But what really sets the i3E EOS apart from other compact flashlights is its OD green color. This color is not just aesthetically pleasing, but also serves a functional purpose. The OD green color is commonly used in military and outdoor equipment and is known for its ability to blend in with natural surroundings.
Javelot Pro 2(OD Green)
Javelot Pro 2 is an exceptional flashlight in terms of its performance. It boasts a maximum output of 2,500 lumens and a beam distance of up to 1,050 meters. It comes with a rechargeable battery that offers an extended run time of charge. If you are looking for a reliable flashlight for outdoor adventures, the Javelot Pro 2 is an excellent option to consider.
One crucial advantage of the OD Green color in the Javelot Pro 2 is its ability to blend in with natural surroundings. This color makes it ideal for use in outdoor activities such as hunting, camping, and hiking. The green coloration makes it less conspicuous, making it easier for users to conceal its presence and maintain their tactical advantage in outdoor situations.
Marauder Mini (OD Green)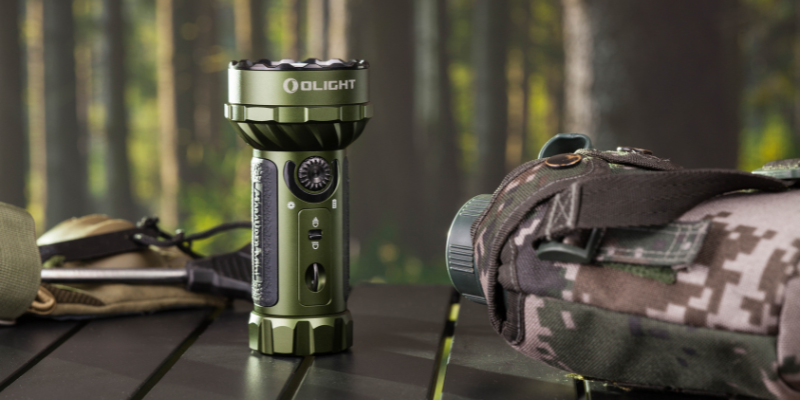 The Marauder mini is a powerful and versatile option for search and rescue missions, hunters, and outdoor enthusiasts. With nine LEDs surrounding the center and three evenly distributed around the converging lens, it offers seven brightness levels ranging from 200-7000 lumens. The flashlight also features a convenient toggle switch and an upper rotary knob to switch between spotlight and floodlight options and control brightness levels.

Its unique OD green color makes it a great choice for those who want a flashlight that blends into the environment, which makes it stand out. The OD green color is perfect for night operations where stealth and concealment are vital for success. The Olight Marauder Mini's OD green finish is perfect for these types of situations and helps to keep the flashlight hidden and secure.
Obulb Plus
The Obulb Plus is a rechargeable light orb that comes with a touch switch and app control features. It has multicolor options with adjustable brightness and modes, making it easy to customize to your needs. With its magnetic bottom, it can be attached to various surfaces, and it has a larger diameter than the Obulb Pro, illuminating a larger area. It is also durable, with 1m impact resistance and an IPX7 waterproof rating.

Obulb Pro S
The Obulb Pro S is a new app-controlled light that can be controlled via Bluetooth using the Olight Hub App. The app allows users to change the light's mode, brightness, and color, as well as check the remaining power. The light also features step-less dimming and a magnetic bottom that attaches to almost any smooth surface.
The built-in battery allows for up to 6.5 days of use and can be fully charged in 3 hours with the magnetic charging cable. The Obulb Pro S is also IPX7 waterproof and 1.5-meter impact-resistant, making it great for any environment or adventure.
i5T EOS(Cracked Brass)
The Cracked Brass finish is achieved through a special process that involves intentionally cracking the brass material, resulting in a distinctive aesthetic that is reminiscent of antique brassware. The cracks vary in size and distribution, adding an element of randomness and uniqueness to each individual flashlight.
Aside from its aesthetic appeal, the Cracked Brass finish also offers practical benefits. Brass is a durable material that is resistant to corrosion and wear, making the i5T EOS a reliable tool for everyday carry. The Cracked Brass finish also provides a better grip compared to other smoother finishes, making it easier to hold onto the flashlight during use.
i5T EOS(Autism Awareness Edition)
Olight released a special edition of the i5T EOS that has been designed to raise awareness about autism. All the proceeds from the Autism Awareness Edition light will be donated to the Organization for Autism Spectrum Australia.
The Olight Autism Awareness Edition of the i5T EOS is not only an excellent flashlight for everyday carry, but it is also a great way to raise awareness about autism and show support for the autism community. By purchasing the Autism Awareness Edition of the i5T EOS, you can help Olight to raise awareness about autism and support organizations that are working to provide resources and support for those with autism and their families.
i5R EOS(Regal blue)
Olight i5R EOS (Regal blue) is an excellent flashlight that offers impressive lighting capabilities in a compact, lightweight design. The Regal blue finish gives it a unique appearance that sets it apart from other flashlights on the market. The Regal blue color is not only aesthetically pleasing but also adds a layer of protection to the flashlight. With the Olight i5R EOS, you can be sure you have a reliable and durable flashlight at your fingertips.
i3T(Donut)
i3T Donut color is a special edition pocket-sized flashlight that has gained a lot of attention among flashlight enthusiasts. The Donut color is a unique colorway that sets it apart from the other i3T variants. The i3T Donut color is a warm, coppery color that resembles the color of a donut. The i3T Donut also features a double helix knurling design, which makes it comfortable to grip, and it also prevents it from rolling off flat surfaces.
Warrior 3s(Scarlet Gradient)
Gradient colors are not commonly used in the flashlight industry, making the Scarlet Gradient an exclusive and eye-catching feature. The color starts with a rich red hue at the head of the flashlight and gradually transitions into black.
Warrior 3s Scarlet Gradient offers an innovative and visually captivating design without sacrificing the exceptional performance that Olight is known for. The captivating color palette not only sets it apart from other models but also offers practical benefits, such as enhanced visibility and unique identification.
Perun 2 Mini (Blue)
Perun 2 Mini has recently released a new color version, and it is in an eye-catching shade of blue. This addition to the Perun 2 Mini family is a special one for many reasons and has quickly become a fan favorite. The Perun 2 Mini-blue is a bold statement piece that adds a touch of personality and fun to any gear collection.
The Olight Perun 2 Mini headlamp in blue color is the latest addition to the Perun 2 Mini series. This headlamp boasts revolutionary features that make it stand out from the rest. It offers high-lumen output and both white and red LED options. With 18% longer battery life than its predecessor, it provides up to 1,100 lumens of brightness. Its red light function can be used for emergencies or to preserve night vision.
Baton 3 PRO(Cu)

Baton 3 PRO (CU) has recently released a new version that comes with a beautiful copper finish. If you're looking for a premium flashlight that stands out from the crowd, the Olight Baton 3 PRO (CU) is definitely worth considering.
In the case of the Baton 3 PRO (CU), the copper finish not only provides a stunning appearance but also serves a practical purpose by improving the flashlight's heat dissipation. This helps to ensure that the flashlight remains cool during use, even when operating at high power settings.
Baton 3 Pro (White)
This new color version of Baton 3 Pro puts a new spin on the classic black design, and it has been well received by flashlight enthusiasts. Well, for starters, it is a refreshing change from the standard black color that most flashlights come in. The White color adds a touch of elegance and sophistication to the design, making it stand out from the crowd.
Additionally, the White color adds a bit of extra visibility in low-light situations. When shining the flashlight in a dark room, the White color provides a brighter and clearer beam, making it easier to see. This can be especially useful in emergency situations where every second counts.
Rubato (OD Green)
The Rubato is a folding knife with a rail lock, made of 154CM stainless steel, with a black blade and handle that have signature Olight blue accents. It has a deep-carry pocket clip and an ergonomically machined skeletonized handle, making it comfortable and easy to hold. The Rubato is a portable and strong knife with a tactical tanto blade suited for daily use.
Otacle(Carbon Fiber)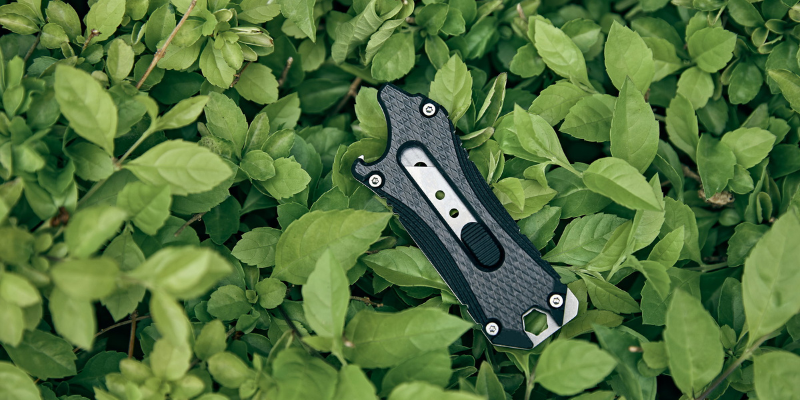 Otable comes with a new color version of Carbon Fiber. Carbon fiber is a composite material made from carbon fibers and a resin matrix. It is known for its strength, stiffness, and lightweight. Carbon fiber is used in industries such as aerospace, automotive, and sports equipment because of its unique properties. It is a popular choice for high-performance products, where strength and weight are critical.
The carbon fiber handle adds a unique look to the knife while also providing excellent grip and durability. If you are a knife enthusiast or just looking for a reliable and stylish knife, the Olight Otacle (Carbon Fiber) knife is definitely worth considering.
Otacle Pro Ti
The Otacle Pro Ti utility knife is an enhanced version of the Otacle knife, featuring a lion-shaped design and a useful pocket clip. Its multifunctional design makes it suitable for various daily tasks.
Otacle J1M
PL-3R Valkyrie
PL-3R Valkyrie is a versatile light with a dual mode setting switch, allowing users to choose between high brightness levels (High1 at 1500lm and High2 at 1000lm). It features an adjustable rail mount with a Key-block to fit various rail structures and a strong setscrew for easy assembly and enhanced durability.
Compatible with both Glock and Picatinny rail inserts, it can also be connected to Olight's magnetic remote pressure switch for use with different Picatinny rail builds. The product offers four output modes: momentary on, constant on, strobe, and key-lock, with a safety lock feature that can be easily unlocked.
RN 1500 (Gray)
The RN 1500 is a powerful and versatile bicycle light designed for serious cycling demands and challenging riding conditions. It has a maximum output of 1500 lumens and can be used for road, urban, and mountain trails. The light features anti-glare technology with a safe cut-off line to prevent visual distractions for motorists, cyclists, or pedestrians.
It is equipped with USB-C charging and discharging integration and can be easily installed on a variety of structures. The light has four output modes, including momentary on, constant on, strobe, and key-lock.
Olight's 16th-anniversary sale is an excellent opportunity to purchase high-quality flashlights at unbeatable prices. Celebrate Olight's 16th Anniversary with amazing deals on top-quality flashlights and other products. Get up to 50% OFF select items and 20% off sitewide, plus a login-free gift of i16 friendship and i3E OD Green. You don't want to miss out on this limited-time offer. Head over to their website and take advantage of this great sale before it ends. Let's go to the 16th-anniversary flash sale>>>