Watch the Video below to Know about the Warrior 3S
ADVANTAGES
✔

Safety Improvement
In addition to the Warrior 3 anti-short-circuit and false-trigger circuit design at the tail, a light proximity sensor is implanted in the head to block downshifts, provide active safety protection and improve safety. The bezel is redesigned to be more gentle to avoid piercing the clothes and causing some safety hazards.
✔

Ultra-high Performance
The flashlight is designed with built-in customized 5000mAh 21700
rechargeable battery
to achieve a max runtime of up to 55 days. It is equipped with high-efficiency Luminus SFT-70X-W lamp beads that delivers up to 2,300 lumens with a max throw
beam distance
of 300 meters. And surrounding environment can be illuminated even if it's in the
floodlight mode
.
✔

Dual Switches
the side switch can be independently controlled, and the indicators on both sides visually display the output brightness gear and the remaining battery power, which meets daily use; the rear tactical operation switches on the tailcap have two-level strokes, which can easily realize strobe and turbo modes.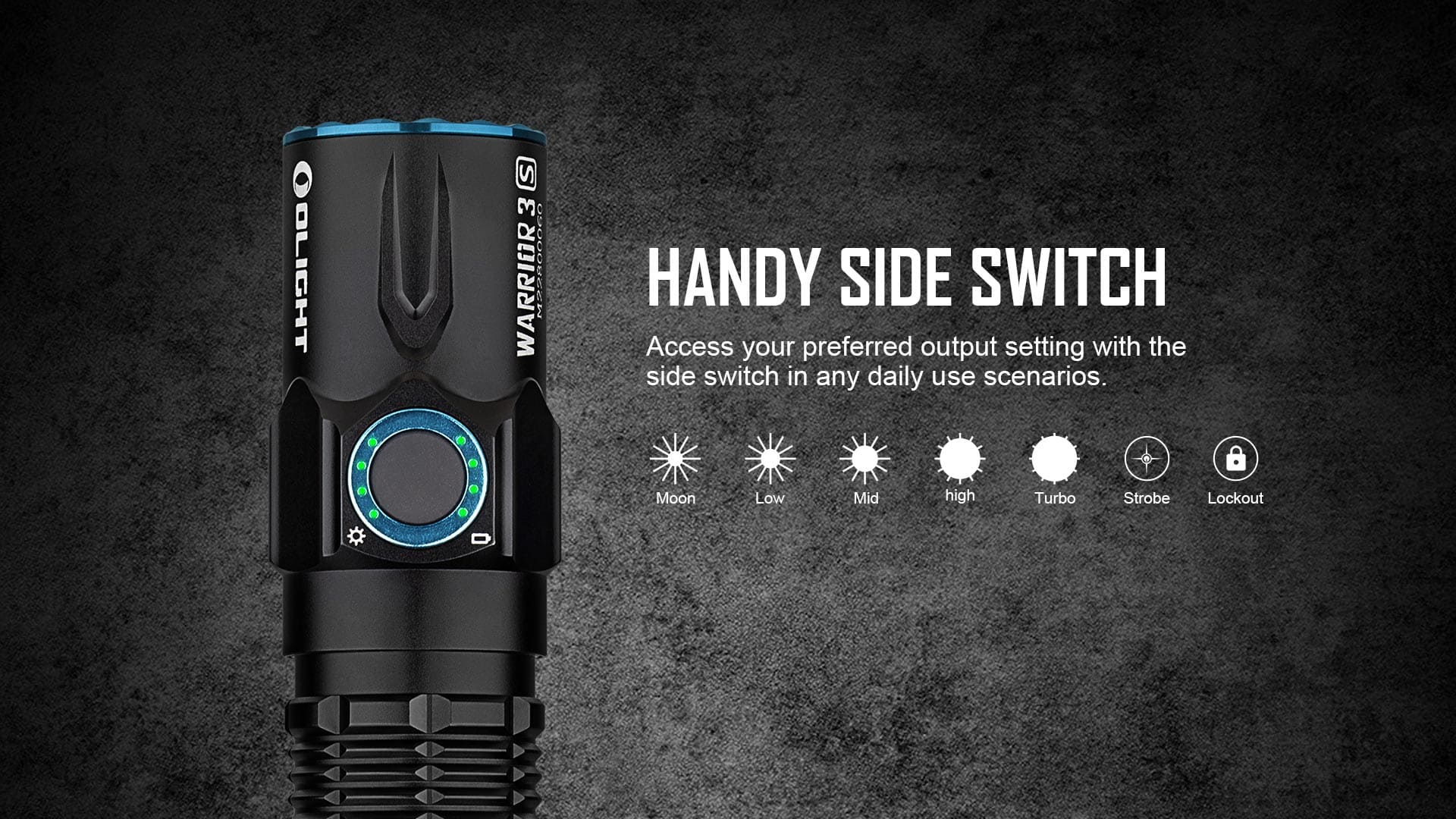 ✔

Optional Remote Switch
The tailcap is re-engineered to support our optional dual-button magnetic remote switch for mounting on a long setup.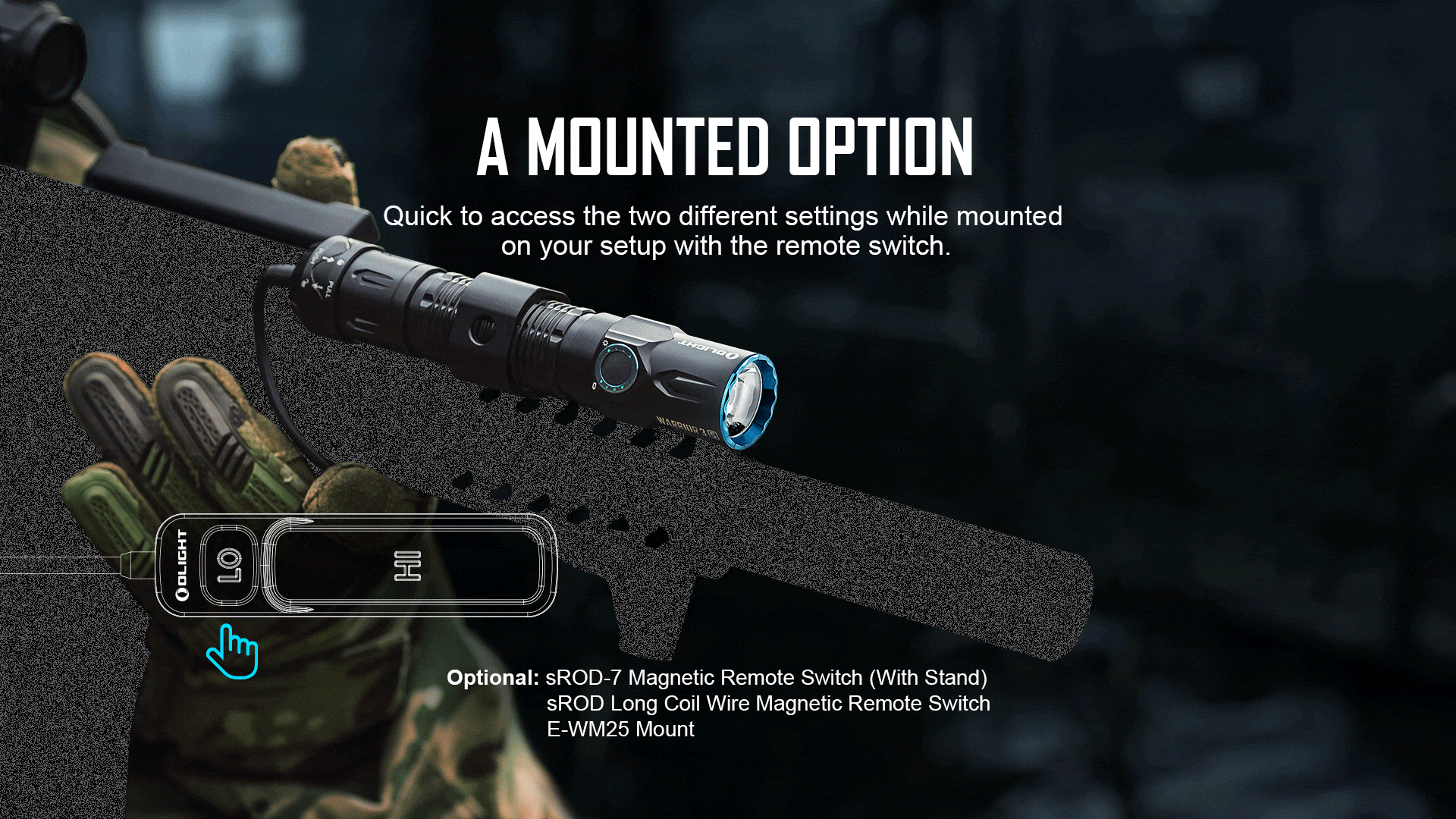 ✔

Magnetic Charging on the Tail
Hanging upside down on the surface of metal objects will not fall; using the patented MCC3 magnetic charging cable and the charging current is up to 2A.
✔

All-around Tactical and Outdoor Flashlight
The standard bi-directional holding clip, with the use of a flashlight holster, is more convenient to carry and travel more freely; it can be used as an EDC flashlight for daily attendance and can be installed on the long and short guns of law enforcement departments using the E-WM25/X-WM03 mount.
OLIGHT PROMISE
Charge type
MCC3 USB magnetic charging cable
Compatible Batteries
Customized 3.6V 5000mAh 21700 Lithium-ion Battery
Light Intensity (candela)
23,000 cd
Mode Operation
Dual Switch
Beam Distance(m)
984 ft (300 m)
Max. Performance (lumens)
2,300 lumens
Form/Size Factor
Medium Size
Light Form
High Performance Cool White LED
Lens / Reflector Type
TIR Optic Lens
LEVEL 1 (lumens)
2,300~800~250 lumens
Run-time LEVEL 1
2.5+160+39 minutes
LEVEL 2 (lumens)
800~250 lumens
Run-time LEVEL 2
166+39 minutes
LEVEL 3 (lumens)
200 lumens
Run-time LEVEL 3
13 hours
LEVEL 4 (lumens)
15 lumens
Run-time LEVEL 4
130 hours
LEVEL 5 (lumens)
1 lumens
TECHNICAL CHARACTERISTICS
Weight (g / oz)
6.21oz/176g (Including Battery)
Length (mm / in)
5.47in/139mm
Body Diameter (mm / in)
1.03 in (26.2 mm)
Use
Everyday Carry, Outdoors, Self-defense, Law Enforcement
●
Warrior 3S (Battery Included) x 1
| File Name | Size | Link |
| --- | --- | --- |
| User Manual_Warrior 3S.pdf | 1031kb | |