In today's fast-paced world, having a reliable and efficient torch charger is essential for anyone who relies on a torch for work, adventure, or emergencies. A torch charger ensures that your torch is always ready for use, providing illumination and safety when you need it most.
But with so many options available, how do you determine which charger is the right fit for your torch? In this blog post, we will explore some of the best charger options that are compatible with different types of torch batteries.
Torch Chargers
What kind of charger do you use for a torch?


Selecting the right charger for your torch is crucial to ensure efficient charging, maximize battery life, and keep your light shining bright.
Wall Chargers: Many torches come with their own wall chargers that are specifically designed for that particular model. These chargers typically have a cable that connects to the torch and a plug that goes into a wall outlet.
USB Chargers: USB chargers offer convenience and versatility, allowing you to charge your torch from various power sources like wall adapters, car chargers, power banks, or even your computer. USB chargers have become increasingly popular due to their compatibility with multiple devices and their ability to charge on the go.

Magnetic Chargers: Magnetic chargers feature a magnetic connection between the charger and the torch, making charging simple and effortless. These chargers often use a magnetic base or dock to securely attach the torch for charging. Magnetic chargers are particularly popular in compact and portable torches as they offer easy attachment and detachment.
Solar-Powered Chargers: For outdoor enthusiasts or those constantly on the move, solar-powered chargers can be an excellent option. These chargers harness the power of sunlight to charge your torch's batteries. Solar chargers are environmentally friendly and can be a reliable source of power when electricity is scarce, making them ideal for camping, hiking, or emergency situations.
Dedicated Torch Chargers: Many torch brands provide specific chargers designed exclusively for their torch models. These chargers are tailored to the voltage and battery type of the torch, providing optimal charging performance. Dedicated torch chargers may come with features like quick charging, overcharge protection, and compatibility with specific battery chemistries.
Highlight Key Factors To Consider When Choosing The Right Charger
Reliability and Peace of Mind

Prolonged Torch Lifespan

Customized Charging Solutions

Faster and Efficient Charging

Prioritizing Safety

Versatile Charging Options ports

Environmental Considerations
Universal Torch Battery Charger
If you have multiple torches or devices that use rechargeable batteries, a universal battery charger can efficiently charge various battery types and sizes. These chargers often come with adjustable slots or adapters to accommodate different battery dimensions and chemistries, providing versatility and convenience.
How do you charge a torch battery?
1, Identify the type of battery: Different torches use different types of batteries, such as lithium-ion, alkaline, or rechargeable NiMH (Nickel Metal Hydride). It's important to know the specific type of battery used in your torch.


2, Connect the charger: If your torch battery is rechargeable, connect the charger to a power source (e.g., a wall outlet) and plug in the charger. Some chargers have built-in charging ports, while others require you to remove the battery from the torch and connect it to the charger.

3, Insert the battery: If the charger has a dedicated slot for the battery, insert the battery into the correct position. Make sure to align the battery terminals correctly with the charger's contacts or the charging slots.

4, Monitor the charging process: Most chargers have indicators, such as LED lights, to show the progress of the charging process. Pay attention to these indicators to determine when the battery is fully charged. Charging times can vary depending on the charger and battery capacity.

5, Disconnect and store: Once the battery is fully charged, disconnect it from the charger. If necessary, reinstall the battery into the torch or store it in a safe place until you need to use it. Be sure to follow any specific instructions for battery storage provided by the torch's manufacturer.
Torch Charger Recommendations

Olight MCC (Magnetic Charging Cable) is a proprietary charging cable designed specifically for Olight flashlights and other Olight products that utilize the magnetic charging system. The MCC cables are known for their convenience and ease of use.
There are different variations of MCC cables available, depending on the specific Olight flashlight model or product. The cables typically feature a magnetic charging connector on one end that easily attaches to the magnetic charging port on the flashlight. The other end of the cable is a standard USB connector that can be connected to a power source such as a computer, wall adapter, or power bank.
Olight offers MCC cables with different lengths and compatibility options to cater to their various flashlight models. These cables are designed to enable efficient charging and can transfer power to the flashlight while also allowing for data transfer when applicable.
The USB Type-C charger mentioned the Quick Charge 4+ & PD3.0 Fast Charger with 20W multi-voltage output, which should work with the Marauder 2 flashlight. As long as the Marauder 2 has a USB Type-C charging port, this charger should be compatible.
Two-Channel Lithium Ion USB Battery Charger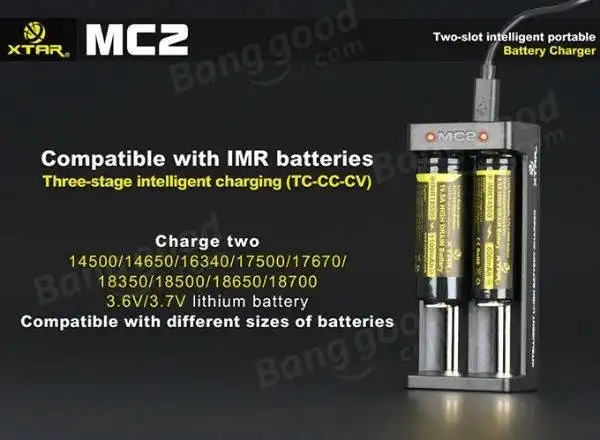 The Xtar MC2 is an efficient and dependable lithium-ion battery charger, known for its speed and reliability. It utilizes a universal micro USB interface, allowing it to be conveniently connected to any compatible computer or USB wall outlet. With the MC2, you can charge various popular sizes of Li-ion batteries, including 14500, 16340, and 18650 rechargeable cells.
One of the standout features of the MC2 charger is its advanced safety mechanisms. It incorporates overheat protection, reverse polarity protection, and short circuit protection, ensuring not only fast charging but also the safety of your batteries.
The charger's body is constructed with highly durable and heat-resistant ABS plastic, making it resistant to damage and capable of withstanding prolonged use. This design characteristic guarantees both the longevity of the device and its ability to endure challenging conditions.
The Omino is a magnetic extension socket designed for your Olight collection. It features four magnetic charging ports, allowing you to charge up to four compatible Olight devices simultaneously. It can connect to any USB power source using a widely available USB type-C cable.
Made with a sturdy aluminum bottom board and a durable PC plus ABS body, the Omino is resistant to corrosion and high temperatures, ensuring its longevity during daily use. The silicone base mat provides additional protection against shocks and drops.
Magnetic charging dock with USB output
This MCA torch charger is a wireless and convenient charging solution for select flashlight models. It is a direct plug-in, class 2 magnetic charger designed to be user-friendly. The charger is compatible with various flashlight models, including the Obulb Series, Baton 3, Perun Mini, S2R Baton II, S2R Baton, S1R Baton II, S1R Baton, and H1R.
The charger features two outputs specifically designed for indoor use. It includes a magnetic charging dock that allows you to easily attach and charge your compatible flashlight using the magnetic connection. Additionally, it offers a USB output, enabling you to charge other devices via USB.