As the leaves change and the air begins to cool, it can only mean one thing - autumn is here!
The crisp air of autumn calls us to venture outdoors and embrace the season's beauty. There are endless opportunities for autumn outings. So grab your flashlights and headlamps, and let's explore the wonders of this magical season!
And with the arrival of this beautiful season comes our highly-anticipated Autumn Sale. We're excited to offer you unbeatable deals and discounts on a wide range of products, so get ready to enjoy big savings during the Olight Autumn Sale.
Autumn Sale Schedule


We will announce our autumn sale details and new products at 7:00 PM AEDT on 10/03/2023. Make sure you take advantage of our sale by browsing all our new arrivals and different bundles in advance.
VIP members (Silver and above) can order early from 13/03/2023 at 8:00 PM AEDT. The offer is open to all customers from 8:00 p.m. on 15/03/2023 to 11:59 p.m. on 17/03/2023. So if you don't want to miss the deals, please pay attention to the schedule.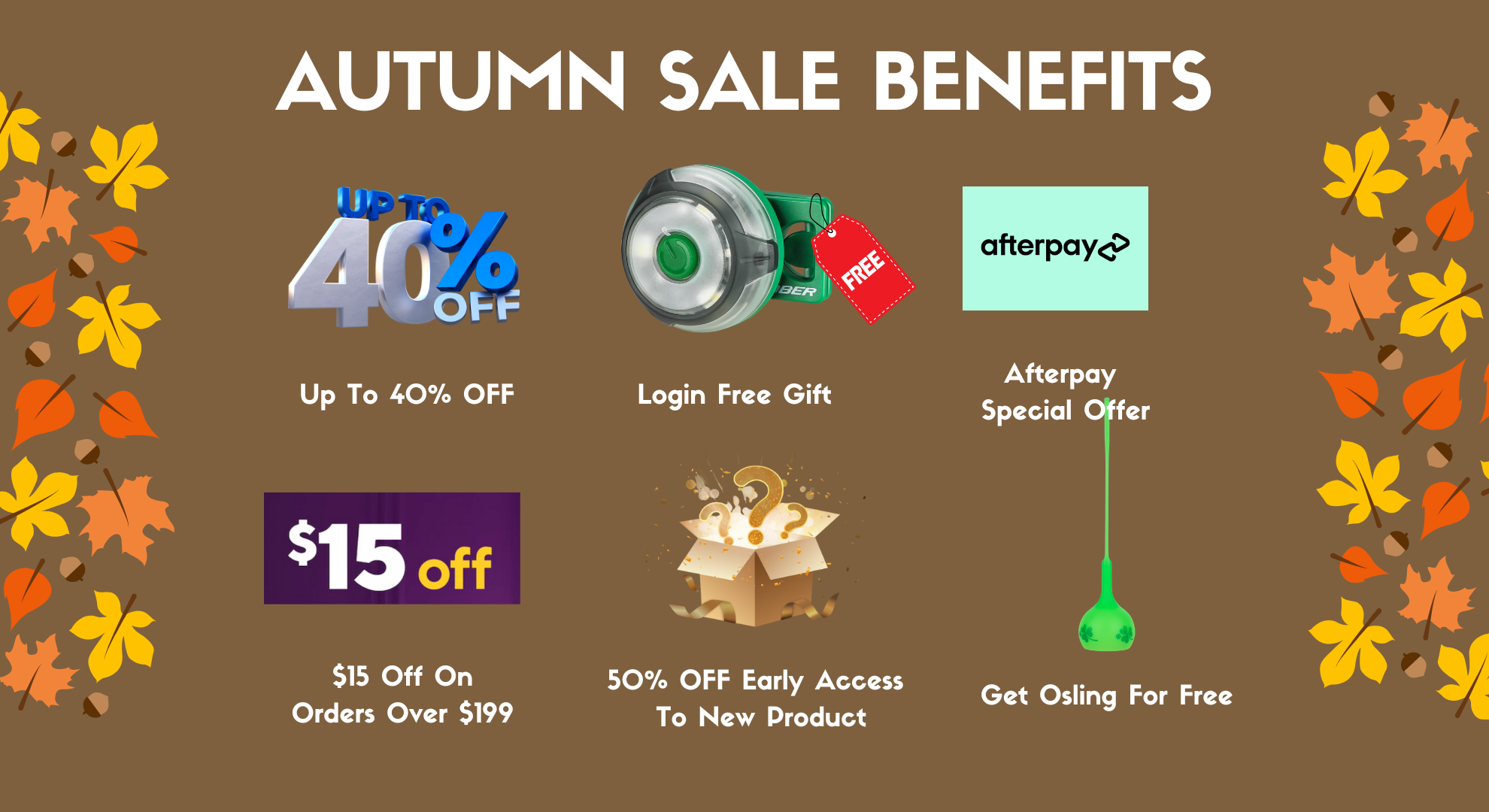 We know that the autumn sale is an opportunity for customers to take advantage of significant discounts on a wide range of Olight products. We prepared many benefits for you, So be sure to take advantage of the Olight autumn sale and save big on your lighting needs.
Up to 40% Off
Attention all outdoor enthusiasts and flashlight collectors! It's the perfect time to stock up on high-quality flashlights and accessories at discounted prices. With up to 40% off on selected products, you won't want to miss out on these incredible deals. Also, there will be 7 new products released in this autumn sale. Let's go and find out now>>>
Login Free Gift
We are offering Gober - Green as a free login gift to all customers during this autumn sale. Once you login in then this Gober safety light will be in your shopping cart automatically. but if you haven't had an account registered with us, you can click here to create yours>>>
Afterpay Special Offer
we are excited about our partnership with Afterpay and the numerous benefits it provides to our customers. By offering flexible payment options, we are giving customers a greater degree of control over their finances, which is essential in today's economic climate.
Furthermore, our special discount offer is an opportunity for our customers to save money while taking advantage of Afterpay's convenience.
| | | | |
| --- | --- | --- | --- |
| ITEM | Original Price | Discount | Buy Now |
| Arkfeld - Pinwheel Gunmetal Grey | $129.95 | 30% | $90.97 |
| Warrior X 3 | $189.95 | 25% | $142.46 |
| Warrior X 3 Kit | $247.95 | 25% | $185.96 |
| Warrior X Turbo | $199.95 | 25% | $149.96 |
| Obulb Pro | $72.95 | 25% | $54.71 |
| Nightour | $144.95 | 20% | $115.96 |
| Swivel Pro Max | $129.95 | 25% | $97.46 |
| Swivel Pro | $94.95 | 20% | $75.96 |
$15 Off On Orders Over $199
One such sale that's sure to catch your attention is the $15 off on orders over $199 in our Autumn sale. This sale offers $15 discount on all orders that reach a minimum spend of $199, making it an ideal opportunity for savvy shoppers to save big. Please note that the coupon is available once you are logged in.and it will be in your account automatically. This sale is only for a limited time, so hurry up and get your hands on some great bargains! >>>>
Early Access To New Product


In order to better market our products, Olight offers 50% off of trial products to customers on a monthly basis. The trial product is only available to Yellow, Blue, Red and Black Diamond users. Please do not forget to try our trial products if you qualify. Please click here to learn more>>>
Get Osling For Free
The Osling is cover for Obulb. We will provide this as a free gift on the O-Fan club. If you are interested in this little cute stuff, Please don't forget to take it away. Click here to get it>>>
So why wait? Take advantage of the Olight Autumn Sale and upgrade your flashlight collection today. Whether you're a frequent hiker, camper, or simply need a reliable flashlight for everyday use, Olight has a product that will meet your needs. The sale won't last forever, so head over to their website now and start shopping. With up to 40% off, you can't afford to miss out on these savings. Happy shopping! >>>