Humans used copper as one of the first metals to create tools. Copper is still widely used in many parts of the world today. The material is used to make many beautiful pieces of artwork, utensils, small tools, and even flashlights. With years of experience in manufacturing flashlights made from cooper, Olight has produced numerous models aimed at meeting the suggestions of Ofans.
The Eternal 3 copper flashlight was launched during the Black Friday sale this year, based on the flat Arkfeld EDC flashlight popular among users. The unique patina that copper develops makes it an extremely valuable material, although its durability is also one of its top characteristics.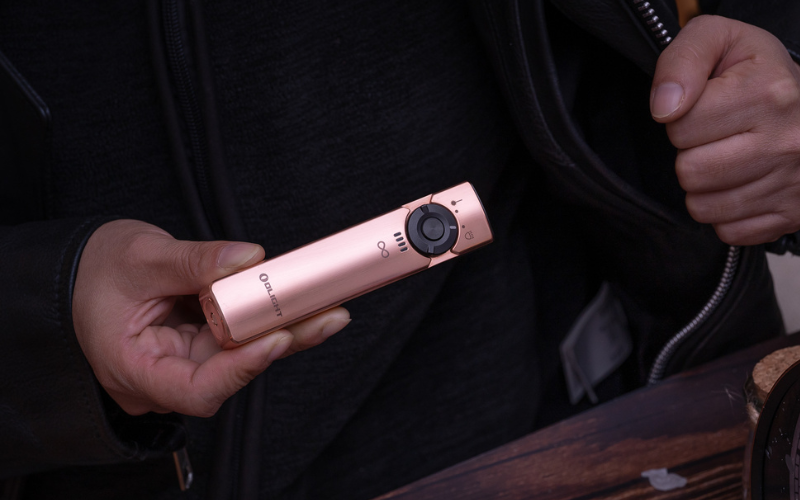 How does patina work for copper flashlights?
The patina a metal develops when exposed to atmospheric conditions is a protective layer. Patina can also be forced, which means encouraged to occur more quickly than it naturally would.
Two Methods of Encouraging Patina Formation
Patina is a chemical process at its core. There are two ways to help make your copper flashlight develop patina:
1. Natural Copper Patina
By exposing your copper flashlight to air, you can speed up the patination process. Copper oxidizes due to moisture found in the air, slowly becoming browner or darker than its original color. It takes time for a natural patina to develop, and it generally develops into a natural glossiness. The oils and other effects of human hands will produce a patina with significantly greater glossiness and a more attractive feel, especially if you have handled your copper flashlight extensively.
1. Forced Copper Patina
Generally, when we talk about forced copper patina, we are referring to a patina created through a chemical process. If you combine vinegar with salt, for example, your copper flashlight will be able to obtain a striking forced patina in a short amount of time.
Just like in chemistry class, forced patina can always be controlled to some extent, because you can decide when and how it should be started and stopped. A forced patina is both an art and a science. Different people might create very different, but equally beautiful, patinas while forced patinating.
Forced patina can also be influenced by humidity, temperature, and the presence of different chemicals in the air. Any patina can change over time if left unprotected. Therefore, sealing your patina at the point when you consider it ideal is very important. Using wax, lacquer, or a proprietary product designed for the purpose can help prevent it from changing or developing further.
There are several ways of forcing patina on your copper flashlight:
1. Seal your copper flashlight with fresh, hot hardboiled egg pieces in a plastic bag or container.
2. Soak your copper flashlight in a mixture of white vinegar and salt. (This tends to create a blue or green patina.)
3. Cover your copper flashlight in crushed potato chips soaked with white vinegar.
4. Spray your copper flashlight with saltwater and seal it in a plastic bag or container.
You should be aware that the amount and color of patina on your copper flashlight will be greatly influenced by how long the copper flashlight is exposed to patinating substances. It is possible to deepen the color with longer exposure. During the process of forcing patina, take care to maintain your safety, and practice on a scrap piece of copper if at all possible.
However, the copper alloys and patinas will differ from those on your copper flashlight, but you'll get a feel for the process and gain some confidence.
What is the best way of encouraging patina formation on copper EDC items? Is there a way to protect that great-looking patina once it has been achieved? Please share your thoughts in the comment section below. We appreciate that if you share your story with us. It's our honor!
By the way, one more thing? would you like to try Copper Patina with our popular Arkefld flashlight? It's in a big discount during the Black Friday Sale right now! Do you want a try? Just take a look at Arkfeld now!