S2R Baton II
✔ Greater Output Delivered
Powered by a single Olight customized 3200mAh 3.6V 18650 battery, its max output reaches 1150 lumens and with a max throw of 135 metres.
✔ Premium Beam Profile
The S2R II utilizes an upgraded and Optimized TIR optic lens that produces a perfectly balanced hotpot for optimal clarity.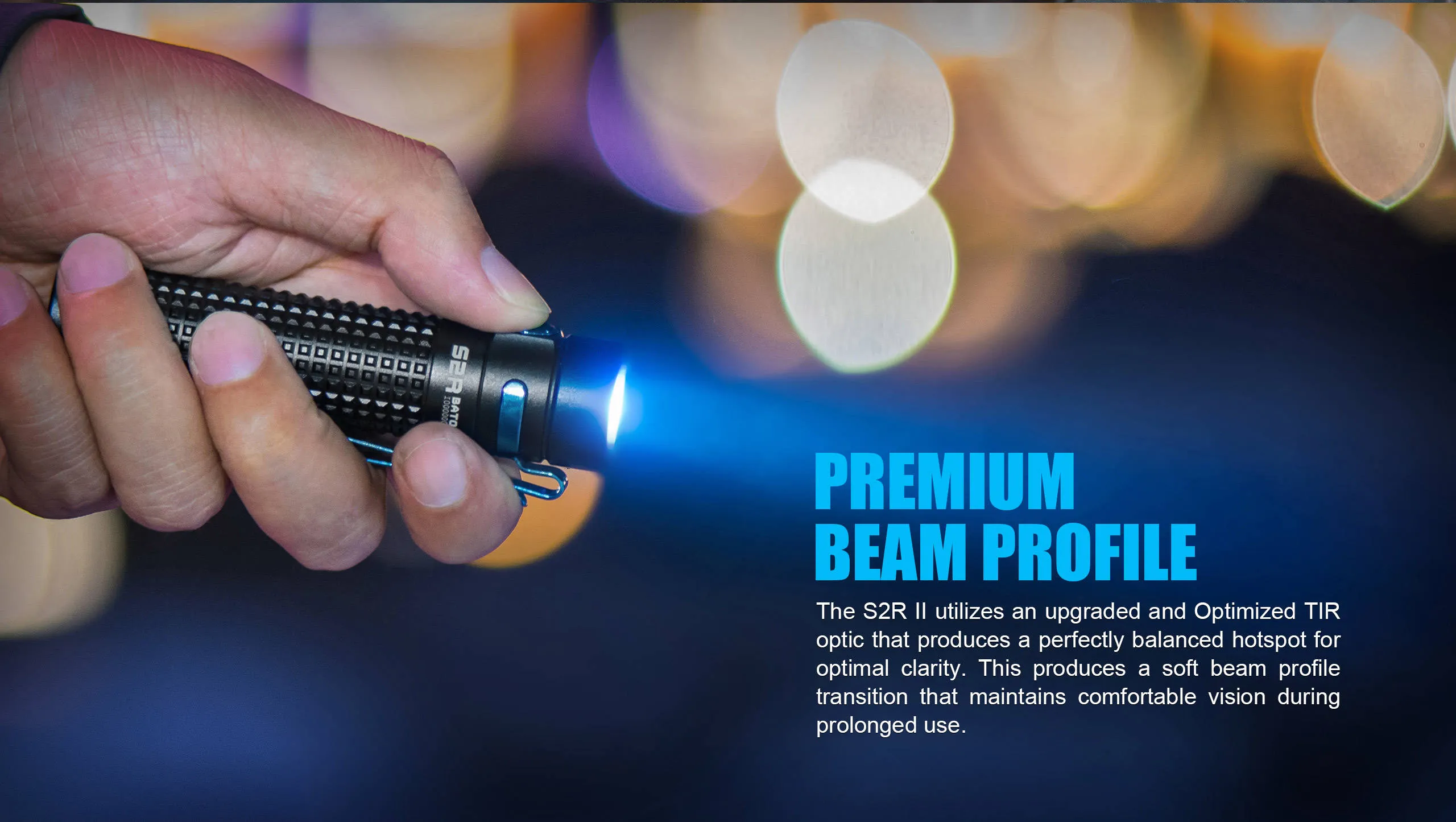 ✔ Highly Efficient MCC 1A Charger
It is compatible with almost all existing Olight MCC rechargeable flashlights(Not compatible with the R50 Pro and PL Mini) with a faster 1A current charging speed.
Beagle
✔ Beagle Handle Folding Knife
The Beagle is a harpoon blade-style folding pocket knife.
✔ 154CM Harpoon Blade
154CM stainless steel brings high wear and corrosion resistance, and excellent edge retention. Harpoon blade with enhanced tip is perfect for cutting and piercing tasks.
✔ G10 Handle
High strength, durability and water resistance.
✔ Exploded View
Inside the handle is a robust liner lock. And the blade running on a low-friction ball-bearing system allows users to smoothly deploy the knife with the dual thumb studs.
I5T Plus
✔

The I5T Plus
Multi-colored, choose what you love.AA battery long battery life portable torch.Made of aluminum alloy, integrated small straight body.
✔ Multiple Options
Select your preferred pattern, body-color, and color temperature to customize your own flashlight.
✔ Multiple Color Temperature
Three color temperature options to support you at different tasks.
Neutral White: Strong penetrating power, suitable for travel in rainy and hazy weather; not too irritating to human eyes, and also suitable for cyclists
Warm White: Suitable for indoor use or to create a warm atmosphere. Scenes such as lighting up in a camping tent, reading at night before bed
Cool White: Suitable for outdoor travel, disaster prevention, and scenes that require strong light exposure
✔ Multiple Appearances
2 pattern options and 4 colors. The double helix knurling and pebble etching are exquisite and provide a solid grip.

✔ Powerful Portable Torch
Max 550 lumens and 87 metres max throw. It illuminates every corner of the path with up to 550 lumens.
✔ Convenient and Professional
Grippy tail switch, IPX8, and longer runtime. It also features a two-way pocket clip that can be easily clipped onto a pocket or backpack strap for hands-free use.
Olight Promise


Charge type
Magnetic USB Charging Cable
Compatible Batteries
Customized 18650
Light Intensity (candela)
4,600 candela
Mode Operation
Side Switch
Max. Performance (lumens)
1,150 lumens
Form/Size Factor
Medium size (Permanent Marker)
Series
Series Baton (EDC, General Use)
Lens / Reflector Type
TIR Lens
LEVEL 1 (lumens)
1,150~400 lumens
Run-time LEVEL 1
2 minutes + 230 minutes
LEVEL 2 (lumens)
400 lumens
LEVEL 3 (lumens)
120 lumens
Run-time LEVEL 3
14 hours
LEVEL 4 (lumens)
15 lumens
Run-time LEVEL 4
100 hours
LEVEL 5 (lumens)
0.5 lumens
TECHNICAL CHARACTERISTICS
Weight (g / oz)
3.47 oz (98.5 g)
Length (mm / in)
3.94 in (100 mm)
Head Diameter (mm / in)
0.91 in (23 mm)
Body Diameter (mm / in)
0.91 in (23 mm)
Use
Everyday Carry, Key-chain, Car, Camping, Fishing, Household, EDC, General use
●
S2R Baton II Flashlight x 1
●
Blue Pocket Clip (Installed on the flashlight) ×1
●
MCC 1A Magnetic Charging Cable ×1
●
Customized 3200 mAh 3.6V 18650 Battery ×1
●
Black pocket Clip (Spare, inside the package) ×1
●
Lanyard (Including tethering tool) ×1