Watch the Video below to Know about the Warrior 3S
Warrior 3S
▶ Proximity Sensor
It dims the brightness (high, turbo or strobe) automatically when the light is blocked by a nearby object.
▶ Leading Performance
The cool white LED paired with a TIR optic lens delivers up to 2,300 lumens and with a max throw of 300 metres.
▶ Tactical Tail Switch
Quick action with the two-stage tactical tail switch and activate turbo or strobe with a singel press.
▶ Handy Side Switch
Access your preferred output setting with the side switch in any daily use scenarios.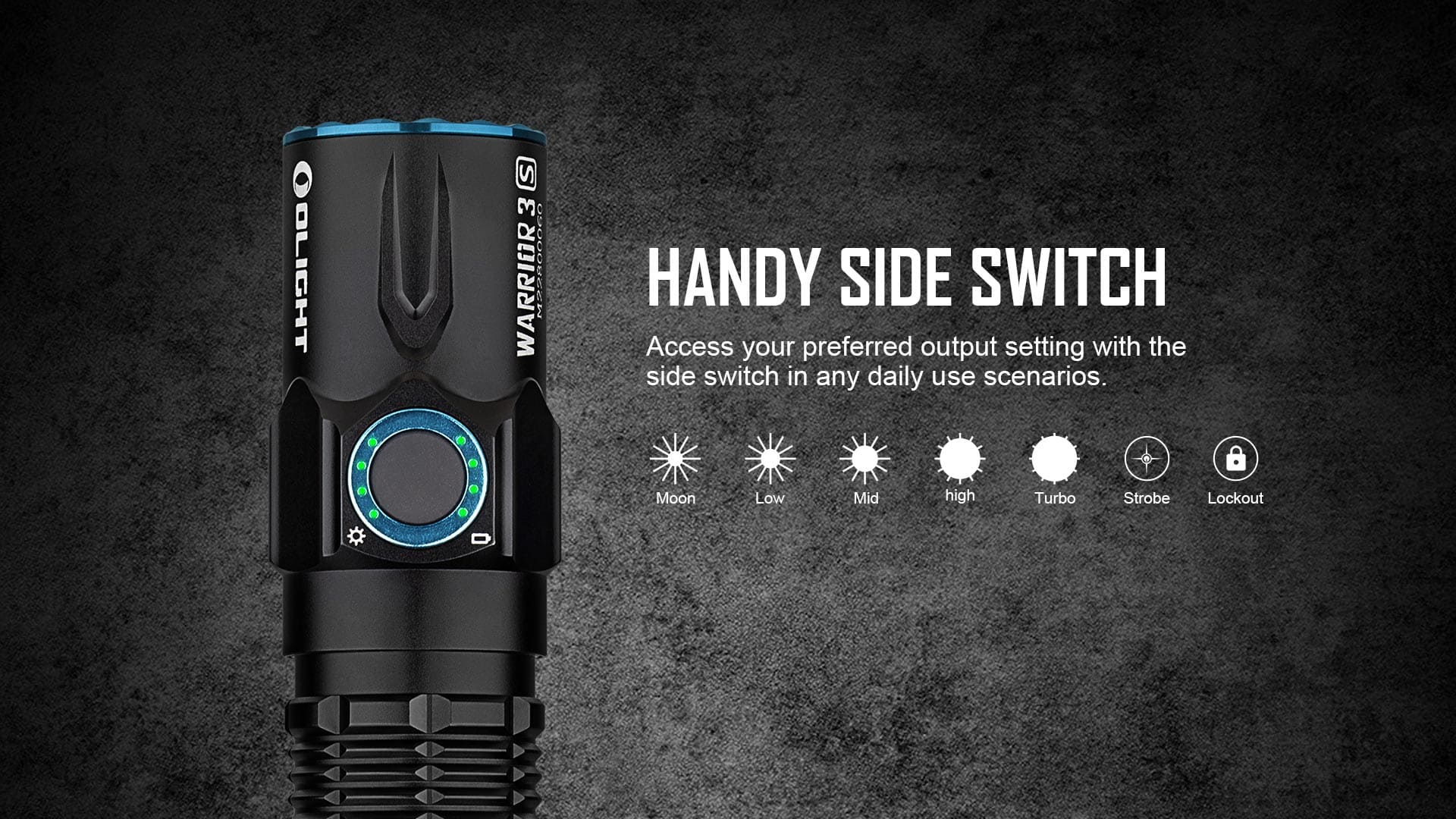 ▶ A Mounted Option
Quickly access to the different settings while mounted on your setup with the remote switch.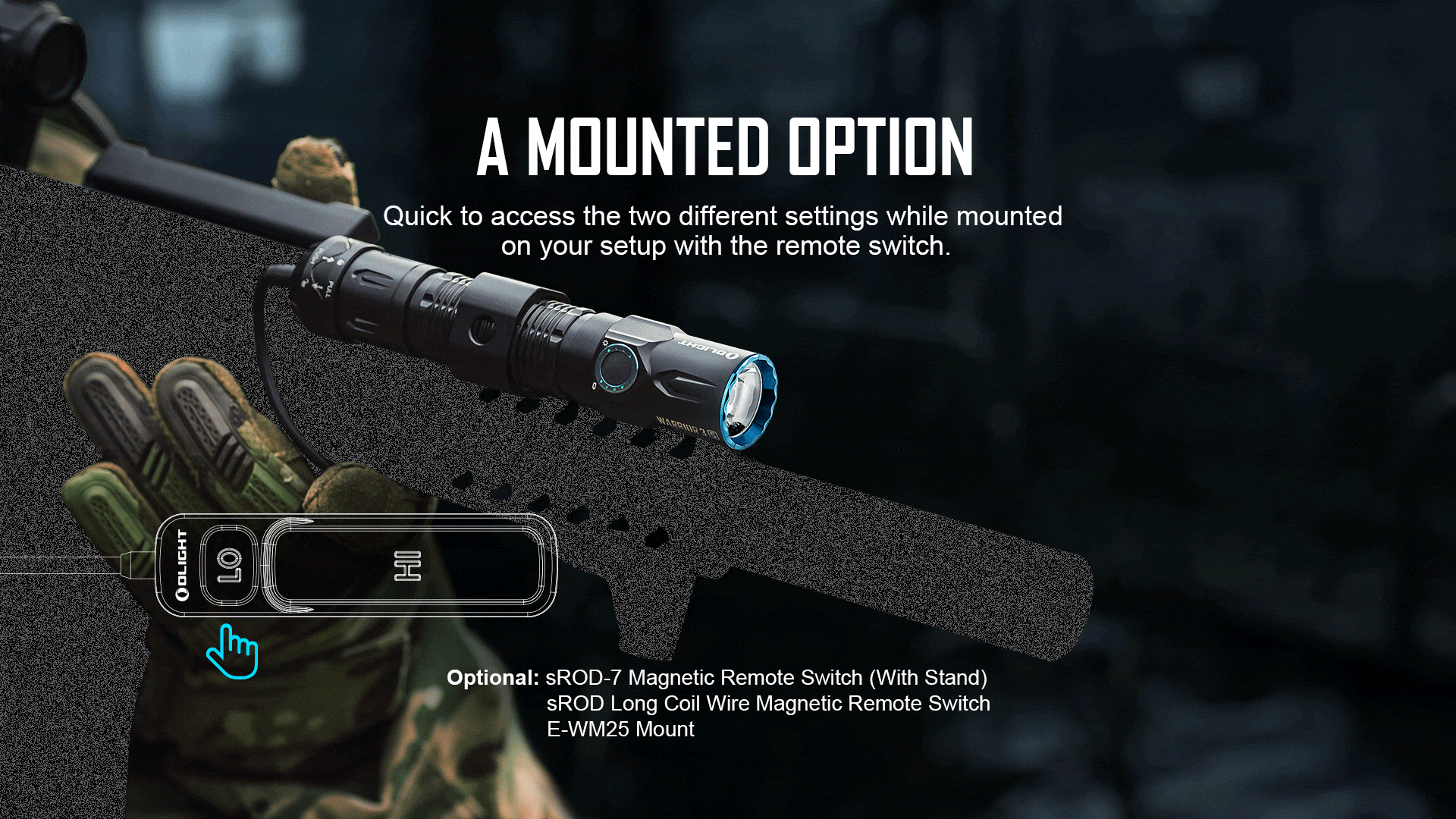 ▶ Easy Magnetic Charging
Rechargeable with Olight signature USB magnetic charging cable, easy to nap on and start charging.
▶ Pocket-friendly Design
Smoother bezel reduces the chance of getting hooked or pricked.
▶ Premium Holster
The holster is made of durable nylon material to protect your Warrior 3S and can give quick access to the flashlight while it is fastened.
Note:
The proximity sensor can be disabled by double-pressing the side switch within 5 seconds of auto-diming.
Ratel
▶ 154CM Stainless Blade
Made of 154CM stainless steel, its 3.2-inch blade has excellent edge retention. This blade will puncture hard objects without snapping and stay solid for defending against attacks.
▶ Tanto Blade Style
The tanto blade style is thick up to 3mm and features substantial percentage of the metal near the knife's point, offering greater durability and power.
▶ The G10 Handle
The Ratel adopts a contoured G10 handle with high strength and durability. Inside the handle is a robust liner lock for a safe lock-up every time.
▶ The Portable Design
With a closed length of 4.28 inches and a convenient pocket clit, it is easy for daily carry.
▶ Smooth and Safe Deployment
Quick and easy access with the flipper tab. The robust stainless liner lock ensures an easy and safe lockup.
I5R
▶ Tail-switch EDC Flashlight
The I5R EOS is the rechargeable version of I5T EOS, one of our most powerful tail-switch EDC torches, with a max output of 350 lumens.
▶ High Performance LED
It adopts a customized 1420mAh Li-ion battery with an integrated USB Type-C interface for charging. The high-performance LED, paired with a PMMA lens, produces a soft and balanced beam up to 35o lm.
▶ Unique Double Helix Knurling
Like the I5T EOS, it features a tail switch, aerospace grade aluminum alloy body, unique double helix knurling, and a two-way pocket clip.
Obulb MC
▶ Fantastic Light Colors
By pressing the soft rubber-coated button, you can select from 8 light modes for camping. hiking, night work, emergency power outage, ambience lighting, signaling, party decoration, etc.
▶ Floating Light
IPX7 waterproof and 1.5-meter impact-resistant, the Obulb MC can be a good pool light and game partner.
OLIGHT PROMISE
Charge type
MCC3 USB magnetic charging cable
Compatible Batteries
Customized 3.6V 5000mAh 21700 Lithium-ion Battery
Light Intensity (candela)
23,000 cd
Beam Distance(m)
984 ft (300 m)
Max. Performance (lumens)
2,300 lumens
Form/Size Factor
Medium Size
Light Form
High Performance Cool White LED
Lens / Reflector Type
TIR Optic Lens
LEVEL 1 (lumens)
2,300~800~250 lumens
Run-time LEVEL 1
2.5+160+39 minutes
LEVEL 2 (lumens)
800~250 lumens
Run-time LEVEL 2
166+39 minutes
LEVEL 3 (lumens)
200 lumens
Run-time LEVEL 3
13 hours
LEVEL 4 (lumens)
15 lumens
Run-time LEVEL 4
130 hours
LEVEL 5 (lumens)
1 lumens
TECHNICAL CHARACTERISTICS
Weight (g / oz)
6.21oz/176g (Including Battery)
Length (mm / in)
5.47in/139mm
Body Diameter (mm / in)
1.16in/29.5mm
Use
Everyday Carry, Outdoors, Self-defense, Law Enforcement
Package Contents
Warrior 3 (Battery Included) x 1 Pocket Clip x 1 MCC3 USB Magnetic Charging Cable x 1 Holster x 1 User Manual x 1