Watch the Warrior 3S Five Elements Video Below
ADVANTAGES
✔ Limited Quantity

With limited quantity of each version worldwide, extremely precious.
✔ Limited Edition
Five Elements: The source of energy, use it, collect it.
✔ Sophisticated Production Process
"The Fire/Air/Water/Earth Element" are made of titanium alloy and "The Fifth Element" is represented our timeless copper material.
✔ Fire Element
The brilliant color shows enthusiasm like fire, symbolizing brightness and passion.
✔ Air Element
The silver gray is close to color of titanium itself, making the torch look more elegant and stylish.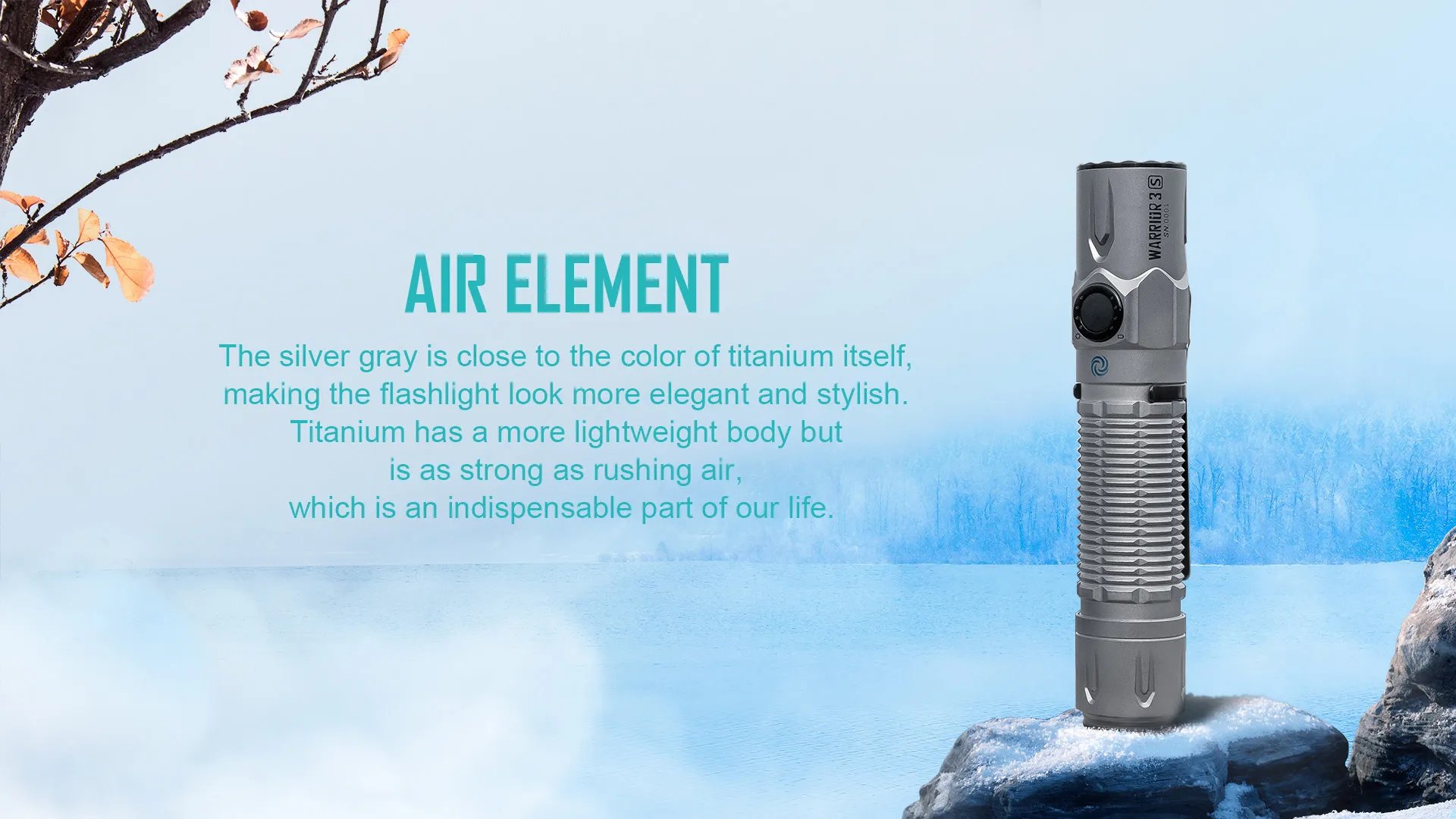 ✔ Water Element
The dark blue reminds us of the deep and mysterious sea, awakening the desire for freedom and exploration.
✔ Earth Element
Earth tone, rustic and natural, creates a warm & nature-friendly atmosphere.
✔ The Fifth Element
Copper- a symble of positive energy. With the ability to clear out any surrounding negative energies and endow you with strong spiritual strength, like the fifth element.
✔ Five Elements
The world consists of five elements. Fire, air, water, earth are the foundation of all things. Meanwhile, the fifth element in the universe represents great spiritual strength.
✔ Strong Use Value
They not only possess sophisticated production technology, unique appearances, beautiful meanings but also has immense practical functions.
OLIGHT PROMISE
Charge type
MCC3 USB magnetic charging cable
Compatible Batteries
Customized 3.6V 5000mAh 21700 Lithium-ion Battery
Light Intensity (candela)
Ti:16,900 candela; Cu: 23,000 candela
Mode Operation
Dual Switch
Beam Distance(m)
Ti: 260 metres; Cu: 300 metres
Max. Performance (lumens)
Ti: 1850 lumens; Cu: 2300 lumens
Form/Size Factor
Medium Size
Light Form
High Performance Cool White LED
Lens / Reflector Type
TIR Optic Lens
LEVEL 1 (lumens)
Ti:1,850~650~250 lumens;Cu:2,300~800~250 lumens
Run-time LEVEL 1
Ti:2.5 + 235 + 29 minutes; Cu:2.5 + 160 + 39 minutes
LEVEL 2 (lumens)
Ti:650~250 lumens; Cu:800~250 lumens
Run-time LEVEL 2
Ti:240 + 26 minutes; Cu:166 + 39 minutes
LEVEL 3 (lumens)
Ti/Cu: 200 lumens
Run-time LEVEL 3
Ti/Cu: 13 hours
LEVEL 4 (lumens)
Ti/Cu: 15 lumens
Run-time LEVEL 4
Ti/Cu: 130 hours
Run-time LEVEL 5
Ti/Cu: 55 days
LEVEL 5 (lumens)
Ti/Cu:1 lumen
TECHNICAL CHARACTERISTICS
Weight (g / oz)
Ti: 7.55 oz (214 g) (Including Battery);Cu:10.72 oz (304 g) (Including Battery)
Length (mm / in)
5.47in/139mm
Body Diameter (mm / in)
1.03 in (26.2 mm)
Use
Everyday Carry, Outdoors, Self-defense, Law Enforcement
●
Warrior 3S (Battery Included) x 1
●
MCC3 USB Magnetic Charging Cable x 1
| File Name | Size | Link |
| --- | --- | --- |
| Warrior 3S Ti User Manual.pdf | 1058kb | |
| Warrior 3S CU User Manual.pdf | 1060kb | |