ADVANTAGES
✔ Perfect and Powerful
Powered by a single maximum capacity 5000mAh 21700 customized lithium rechargeable battery, its max output reaches 3200 lumens and with a max throw of 250 metres, providing a perfect medium and close-range lighting experience.
✔ Three-eye Design
Equipped with three CREE XPL cold white lamp beads and a TIP optic lens, its light spot is circular and the lens makes the brightness of the light spot uniform and reaches a wider area.
✔ Humanized Body Design
With a large side switch located near the head of the light and milled finger grooves for comfortable thumb operation and indicatiors on both sides of the switch clearly display the battery power and brightness level.
✔ Enhanced Safety
It features anti-oxidation, anti-corrosion and anti-wear. And there is a metal pressure ring on the outside of the lens and on the surface of the ring exists some small dotted wavy shapes to minimize the damage when it is accidentally dropped.
✔ Wide Application Scenarios
With diffuser and red cone, it can be expanded into camp lights, traffic lights, indoor night light and self defence light, etc. It is convenient for every day carry as it has hostler which can be easily fixed on the belt and backpack.
✔ Versatile Charging System
It is equipped with a 3.9 ft long 1A magnetic USB cable which is compatible with Olight S1R/S1R II/S10R III/S2R/S2R II/S30R III/H1R/H2R/M2R/Warrior X/Seeker 2 Pro. The L-Dock provides quick and easy access to charging.
✔ The L-Dock Installation
The L-Dock should be installed on a flat and high-density surface, mounted in the shape of an inverted "L". The flashlight and L-Dock should be set up away from high traffic areas when choosing to avoid being knocked loose and causing damage. The included 1.2-metre long MCC charging cable help to get an easier mounting locations near a power source.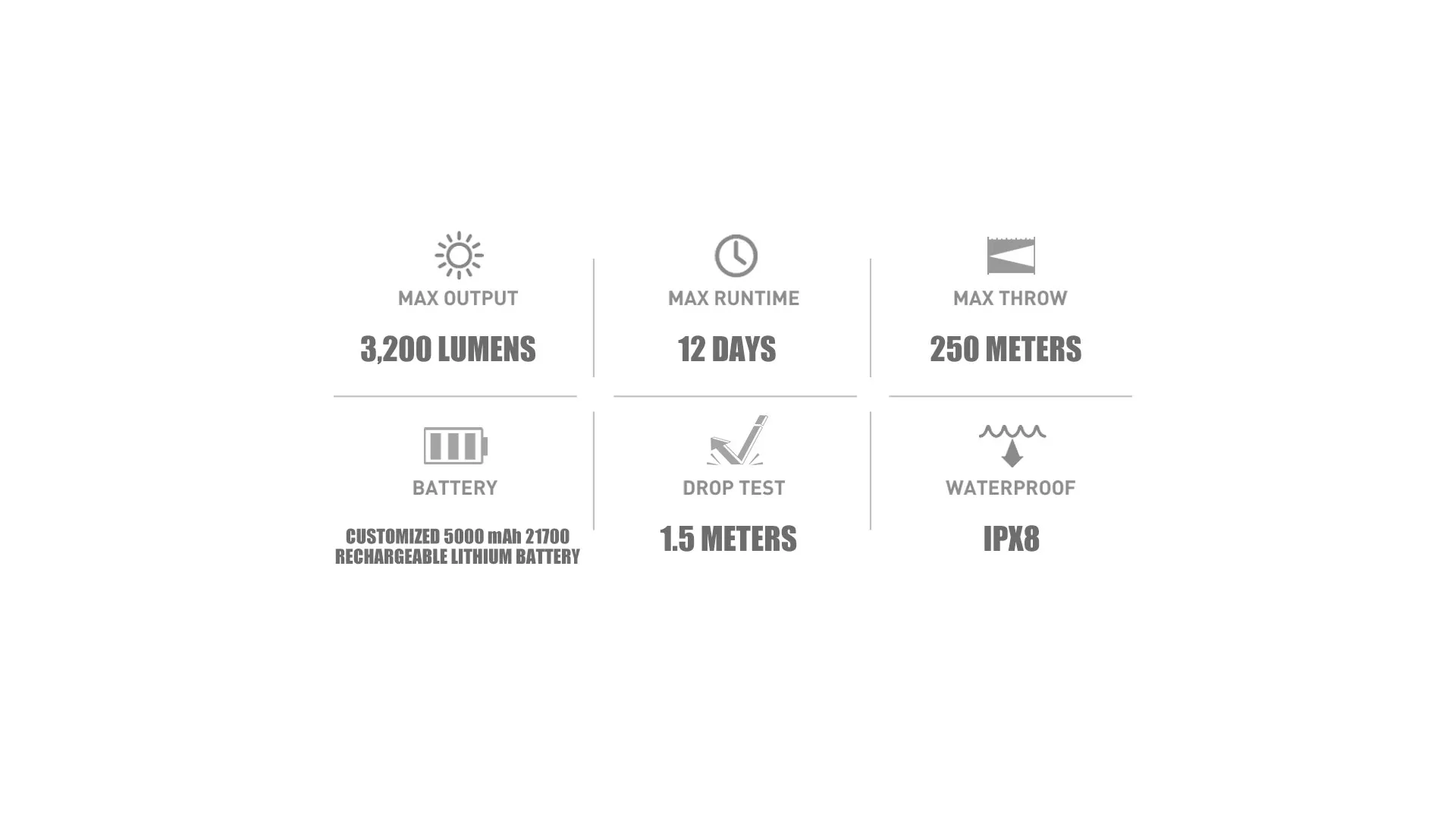 Note: Here is a blog about the comparison between Seeker 2 and Seeker 2 Pro. To get more details, please click here
OLIGHT PROMISE
Charge type
Magnetic charging cable
Compatible Batteries
customised 21700 5000mAh
Light Intensity (candela)
15600
Mode Operation
Side Switch
Max. Performance (lumens)
3200
Form/Size Factor
Large size (Deodorant Spray / Coke Can)
Series
Series R (Rechargeable)
Light Form
Standard hotspot diameter with impressive distance. The perfect all-around beam profile.
Lens / Reflector Type
Smooth reflector (central area and flood area)
Run-time LEVEL 1
3200 lumen (~600lm); 2+150 minutes
Run-time LEVEL 2
1200 lumen (~600lm); 110+30 minutes
Run-time LEVEL 3
9.7 hours
Run-time LEVEL 4
50 hours
TECHNICAL CHARACTERISTICS
Weight (g / oz)
198 / 6.98
Length (mm / in)
128 / 5.04
Head Diameter (mm / in)
35.0 / 1.38
Body Diameter (mm / in)
28.0 / 1.10
Use
search and rescue, camping, industrial, security, police, self defence, outdoor
●
Seeker 2 Pro (Battery included) ×1
●
MCC1AL Magnetic Charging Cable ×1
●
Self-Adhesive Ply-Yarn Drill ×2
| File Name | Size | Link |
| --- | --- | --- |
| User Manual_Seeker 2 Pro.pdf | 939kb | |